The refrigerator of Europe, its oxygen. The Alps are breaking through, marking borders between some countries in southern Europe. One of them defines the boundary between France, Italy, and Switzerland, rising from the rest with white mantle. Disputed between neighboring countries, Mont Blanc or Monte Bianco proudly rises to touch the roof of Europe. One of the 82 four thousand, the largest. With 4,810 meters, its rounded profile looks proud. Not for that reason more accessible. It is one of the peaks most demanded by mountaineers since the hardness of its path tests learners and scholars. An area with the best climbers in the world and the best schools.
At this altitude they are conserved, sorry, they try hard to conserve the impressive Alpine glaciers. Fighting year after year with the increasing temperatures and the increasingly less abundant snowfall that fails to regenerate them. There is one, in particular, Mer de Glace, in which the time stamp is evident throughout its hundreds of steps. It is overwhelming to see the posters with the year where the sea of ​​ice came to pass in its descent. You will not see the humanity in the same way again.
At the foot of Mont Blanc, other large glaciers, such as d'Argentière or Bionnassay, remain volatile, where your heart shudders every time the roar of the glacier becomes audible. And if you can see the break of a piece of ice, congratulations, you have been an accomplice of the passage of time, the high temperatures and the advance of a new era, the Anthropocene.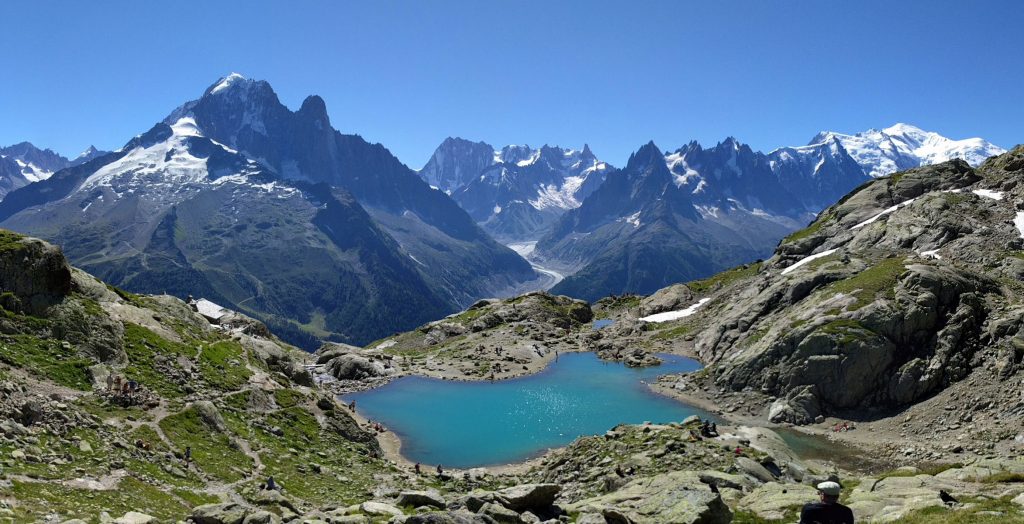 But not everything is bad. Our footprint is evident, yes, but every action has its reaction. And what a glacier leaves in its retreat is part of the wonders of the world. The valleys, the lakes, their animals, their plants … All this is born of the sediments left by these masses of ice. Some of these small lakes impresses, hypnotize, both by the views and by its electric blue.
Admiring any corner of Chamonix valley is an absolute pleasure. Let yourself be adventured by the mountaineer spirit, descend in mountain-bike through the most amazing trails from some viewpoints to the magnificent married ones. Or in a hang glider, if your internal altimeter allows it. Learn from the lessons of the best mountain monitors, climb with them on ice, snow or rock, you are in the best hands.
And fall in love with the views from the Aiguille du Midi, where you can not forget the endless mountains.